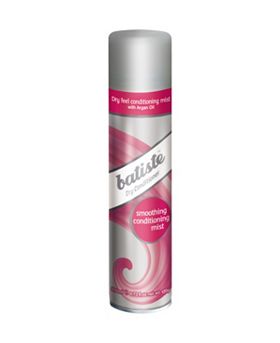 "Goodbye brittle mop, hello Silky locks - A few spritz of this superlight dry feel, invisible conditioning spray infused with Argan Oil, is perfect for the days when you are fighting the frizz or dry ends are driving you dotty. A quick spritz into the mid lengths & ends nourishes, smoothes fly-aways and helps retain moisture in dry unmanageable hair giving you shiny, great looking hair every day."




I purchased this in a rush of desperation at a train station. Since having extensions, my already frazzled locks need extra conditioning, otherwise my real hair, which is a woeful mess, and the fake hair, look very obviously different. Also, extensions are dead hair, so they need lots of oily love, or they look frazzled, matted and disgusting very quickly.




This product, unlike most leave in conditioners, isn't 'wet', it's dry, a dry oil, that you spray on dry hair between washes. It's important not to make the mistake of thinking it's for the same thing as regular Batiste, it'll not make your roots less greasy. Saying tht though, it doesn't make you greasy, just shiny, and soft, and easy to brush, and OH MY, I AM IN LOVE.




TOTES.




It really is great, I love it, as it's not wet, it doesn't affect your 'do' in any way, just gets it smelling fresh, looking shiny, and smooth! It stops the in between wash frazzles. I haven't anything bad to say about this lad. Dive in I say, DIVE IN.




This is currently on offer for the super bargainous price of

£2.99 from Boots.

GO GET!