Hi there. Hope you're all enjoying your weekend. I am personally jealous of the entire country right now, as i'm stuck in the house with the worst bronchitis I have ever experienced. I have a headache, my whole body hurts and i'm wheezing constantly and going hot and cold. Nurse! Bring tinctures!
On the flipside it means I can do a review mega post of the many many eyeshadow primers I have used in my time. I have MEGA oily ultra hooded lids, which means when my eyes are open you can see virtually no eyelid, which, in turn means if I haven't primed I will get transference and smudging everywhere, as well as my eyeshadow moving and fading like a mofo. I cannot survive without primer, I JUST CANNOT!
So lets get going, first, with the most obvious of all the eyeshadow primers...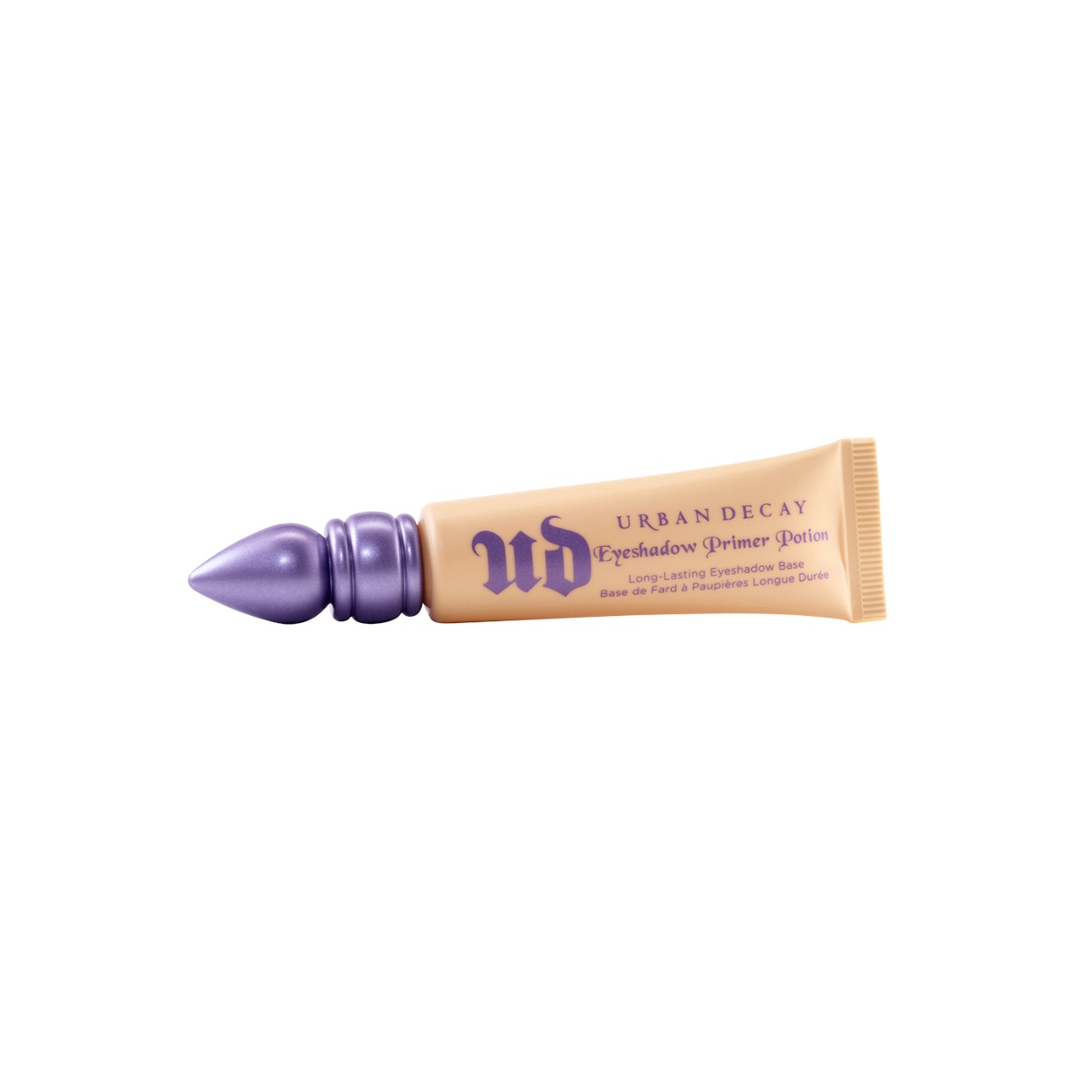 Urban Decay Primer Potion in Eden
"Urban Decay Eyeshadow Primer Potion is Urban Decay's bestselling, world famous eye makeup primer in a brand new, easy to use squeezy tube.
Get vibrant, crease-free colour that lasts over 24 hours with these legendary primers. Coveted by makeup artists and makeup junkies alike, Eyeshadow Primer Potion enhances your existing eye shadows – once you've tried it, you'll never want to live without it!"
Well, this is a toughie for me, because this is universally applauded as the BEST THING EVER by EVERYONE, but sadly it's not the best one i've used by far. There are great things about it. As you can see, this isn't the original version, but the tinted version, and for the purpose of evening out lids and giving you a nice base to apply shadow too, it's totally awesome, and saves you having to apply a nude eyeshadow on top. It also helps the colour of your eyeshadow appear more vibrant,
On the downside, it only keeps eyeshadow uncreased and bright on my lids for about four hours, and I tend to need it to last a lot longer. If this is being used for a normal work day though, i'd say it'll do the trick and then some.
This is available from department store stockists and stand alone boutiques across the country, or you can pick it up online for the price of £15 here at Beauty Bay
Benefit Stay Don't Stray Primer
So this is a different type of product, or at least, it is dressed as one, lets see what they say.....
"This dual-action power primer works 360° around the eyes to make concealers AND eyeshadows STAY PUT. Concealers don't crease, eyeshadows stay vibrant and true…you'll wonder how you ever lived without it!
Comes in a neutral nude shade that is universally flattering and a custom airless pump that is sooo easy to use - just a dab'll do ya! Sodium Hyaluronate hydrates and fills in fine lines. Vitamins C & E help fight signs of aging."
The idea of using eyeshadow primer under the eye isn't actually a new one, i've been using various ones under my eyes for years, but this is the first one i've seen on the market that actually shows people that it's an option for them to use it for this pretty wonderful method. For more info on how to do this see the wonderful Gossmakeupartist below
How to stop your concealer creasing - Goss Make Up Artist - You Tube
The thing about this primer is, for an eyeshadow primer, I don't actually find it 'that' great, it doesn't keep things vibrant for more than four hours and there is significant creasing in that time. Also, being picky, the amount of product it spurts out is very hard to control and for that price, you want to be keeping every ml you can safe! It's other purpose, however, is something it DOES awesomely at, and it is light and airy enough to place under corrector and concealer to keep it locked down on there without it creasing and making you look scary and ancient.
This is available again, at all department stores and stand alone Benefit boutiques, as well as online. Find it here at John Lewis for £20.50
Too Faced Shadow Insurance
Lets have the blurb then kids...
"What It Is:
Your full coverage insurance policy against all fading, creasing and smudging. Our skin-soothing formula evens out skin tone and smoothes fine lines to create a perfect canvas for shadows. Color is intensified and locked down until you take it off.
More To Love:
Unique Binders: Volatiles lock down eye shadow pigments for amazingly long wear.

Versatility: Use with powder or cream eye shadow products.

Fights Fading: Anti-creasing formula holds eye products in place by securing a barrier between the oils of your skin and your makeup.

Concentrated: The size of a rain drop covers the entire lid."
This is another of the MEGA HYPE eyeshadow primers, and one that I made a point of scouring shops high and low for because I thought it was going to be a life changer. Firstly, the blurb, it's winning me over right now, even though I have actually used it and it's not changed my life much at all. So lets answer its claims one by one -
Unique Binders - It does make eyeshadow last longer, this is indeed true, but it's not as vibrant as other primers results, and it went patchy on me after a few hours.
Versatility - Yeah, well, you can't really argue with that, but most people do use cream shadows as primers anyway, so i'm not sure why this is a good feature.
Fights Fading - Well, it does for a bit, given that my eyelids could fade anything within twenty minutes, so three or so hours will do for me, but I do get creasing and fading and my eyelid isn't evened out particularly
Concentrated - Yeah, it is, but more of these things are so...y'know, shrug.
So again, it doesn't actually achieve on my mega oily lids what it should. If you don't have mega oily hooded lids this could probably do the trick totally, but for me, it was a bit of a fail given what I needed from it.
To purchase, you can pop into a flagship Boots store, or go to good old ASOS here and get it for £17.00
Lime Crime Eyeshadow Helper
"Specifically formulated to withstand heat, moisture and oily eyelids. Intensifies eye shadow colour, is moisture resistant and prevents creasing. apply thinly with fingertip, remove using a waterproof eye makeup remover."
Short and sweet! So these claims are ones that get me VERY excited. Waterproof is something that makes me excited, as does the word 'Intensify'. So does it perform???
Kind of! Not totally. It's loved by many many make up addicts, and I do love it myself, and it's cheaper and good value, but it's not quite the dream it claims to be, for me anyway.
It does keep eyeshadow on, it does make it water resistant, and it does make colour pop. However it does also crease, and it can stay sticky for a long time, and despite Lime Crime instructing you to put your eyeshadow on it whilst it's wet, but when i've tried that i've ended up with messy brushes and creases everywhere, and also, my eyelids sticking to my browbone.
Thats not to say this isn't a good product. It is. I know Lime Crime have had much controversy surrounding the owner of the company, but frankly, a good product is a good product, especially when it's cheaper! (I sound so soulless, I generally am not, but I think mistakes in life can be made and I REALLY like their lipstick).
If you'd like to line the pockets of Lime Crime, you can find this product on Love Make Up here for £13
Nars Pro Prime Smudge Proof Eyeshadow Base
Go on Nars..talk at us about stuff....
"No smudging, creasing or caking. This lightweight eye primer is the insider trick of the trade, creating a seamless canvas that keeps cream and powder color looking brilliant, fresh and just-applied all day long. A polymer and mineral-powder blend establishes a firm grip on color ensuring hours and hours of gorgeous wear. Fortified with a special deep-sea extract and an antioxidant rice extract, the Smudge Proof Eyeshadow Base dries on contact and keeps the delicate eyelid smooth and prepared for color application."
You want results??? THIS IS THE GUY. Seriously, nothing I have EVER used comes close to the results that this gives me. I am on my third tube and I love it so much. It makes colour vibrant as it should be, it does not crease, it does not budge, and it does not fade! You can splash your face with water and it'll stick. It really is THAT awesome.
"If you've never used an Eye Primer before, now is the time to invest. Basically, it smoothes the eye lid ready for eye shadow to be applied. It also creates a base, helping the eye shadow last all night long - no more creases! You can sleep all day and party all night with the help of the Eye Primer from MUA, just pop it on the top of your eye lid, pat it in gently and apply your eye shadow directly on top of it."
To finish off i've gone with something for you girls on a budget out there who cannot afford to be spending the best part of twenty quid on keeping your eyeshadow on. MUA is a brand I adore, they give you options for an amazingly cheap price, and they're all pretty effective, and what more could you ask for really?? NOT A LOT.
Does this work? Yeah, it does. It's not impeccable, it doesn't keep eyeshadow crease free ALL day, but for a good part of the day, around the same amount as the benefit primer does, and it gives you a nice smooth base to work with as long as you let your eye dry down before you apply the make up, otherwise you end up with creases. It does the trick though, and the best bit? See below...
You can purchase this Pro Base Eye Primer for the CRACKING price of £2.50 from any Superdrug, or direct from MUA's website HERE
Thanks for reading. I hope you enjoyed my primer run down. Please feel free to give feedback if you think i've been wrong!