JEFFREE STAR COSMETICS
I'll be honest here. I had never heard of Jeffree Star, who is apparently a make up artist, fashion designer, DJ, and singer - songwriter living in Beverly Hills, California, until I saw his new line of matte liquid lipsticks pop up on
Love MakeUp
. I am obsessive about liquid lipsticks in the extreme, I remember one of my first lipstick purchases was
Max Factor Lipfinity
in a incredibly 90's browny nude (although I don't recall it being called that in 93) which I would use without applying the gloss, thus it being a total flat matte. When Lime Crime started chucking out the velveteen lips a few years back, I was literally begging them to take my effing money, and subsequently I have purchased every release of this formula format, of any note, in the years since.
Lime Crime's first foray into the matte lip
I am actually surprised i'd not heard of Jeffree Star, given the circles I operate in, I am often surrounded by many pretenders to the
Club Kid
throne. For anyone totally unaware of the phenomenon, they were a group of clubbers in the late 80's and early 90's that would take an awful lot of drugs, and dress in an exceedingly theatrical
Leigh Bowery-esque
manner and go to clubs and draw a lot of attention. This was documented in the admittedly quite dreadful film starring Macaulay Culkin,
Party Monster
, which although is basically about a load of rather awful human beings, one of them eventually turning out to be a murderer, a lot of young clubbers have tried to emulate the scene, and a lot of them that I know get paid just to turn up to VIP clubs to drink free drinks all night, to make places that, due to my job, shall remain nameless, look edgy and cool as opposed filled with rich businessmen, members of Made In Chelsea and girls in bodycon dresses and heels. I know this because although I don't subscribe to this lifestyle, I do like having free drinks with my friends and free entry when i'm bored of an evening. They never want photographs of me as compared to them i'm seen as a big fatso, so, all is well ultimately!
I've gone off the subject. I apologise. Also, I would like to point out that I ONLY like the free drinks, it's just some of my long term friends live in this silly world despite them being very different when I got to know them. Fashion is an odd world and one i'm glad I don't work in.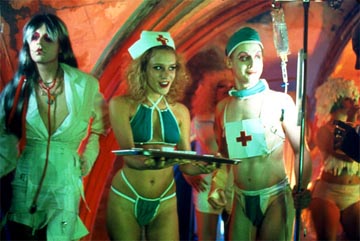 Chloe Seveigny and Culkin in Party Monster
Anyway, onto the ACTUAL PRODUCTS. Essentially these are three liquid matte lipsticks, all with a blue leaning base so they are flattering to your teeth, which is something I need, as my teeth are horrid and yellow due to a childhood dose of antibiotics that were later removed from the market due to turning teeth very yellow, a 13 year smoking habit, and a subsequent obsession with tea and pepsi. I imagine you're getting the picture that i'm not the poster girl for healthy living. For that I apologise.
Pretty pink packaging
They are housed in pleasingly lurid hot pink boxes, which do feel appropriately Beverly Hills in creation.
Prom Night, Redrum, I'm Royalty
Redrum, Prom Night, I'm Royalty
The colours are housed in chunky, solid containers, which err on the side of cute as opposed to tacky. They are about the size of a normal lipstick, which makes them very convenient to pop in your pocket for a night out for top ups. The colours are bright, brash and bold, and are said to be universally flattering, but I would question this, as two of the three colours aren't particularly flattering on my very pale, pink leaning skintone. My favourite is the lilac colour I'm Royalty, which is absolutely beautiful.
Red Rum, Prom Night, I'm Royalty - Just swatched
Redrum, Prom Night, I'm Royalty dried down (approx 10 mins)
So what does Jeffree have to say about his lipsticks....
Our liquid lipstick goes on opaque, dries completely matte and stays on for hours! This product is 100% vegan & cruelty-free! (tips before use: exfoliate then apply to bare lips! avoid food with oil... and no making out, kisses are ok!)
And what do I say....
Being an aficionado of all the liquid lipsticks in the land, I would say that I am in a reasonably good position to give an opinion. It's refreshingly honest of Jeffree Star to point out that in fact, these, like so many, if not ALL long wear lipsticks, are not 'make out' proof. This lipstick will last for about four hours, but you will see signs of wear on the inside of your lips, and more so if you drink any lovely drinks, which when wearing these lips, you probably will be as they are made for parties.
The texture is intriguing, and like nothing i've experienced before with a liquid lipstick. The nearest I could liken it to would be the Lime Crime Velveteens, but it's got a much more stable substantial feel to the formula, thus making it easier to apply than the velveteens I would say. I would say it feels almost....oily at first, and its dry down time is rather long, but once it's set the finish is beautiful, so worth the wait.
Of course at the end of the night, it's a bugger to get off, but what do we expect! It's made to last, we can't have everything. It doesn't stain, just clings. That's good enough for me!
If you would like to try these, they are currently on sale in a bargain bundle via Love Make Up for £35
HERE
or individually for £13
HERE
.