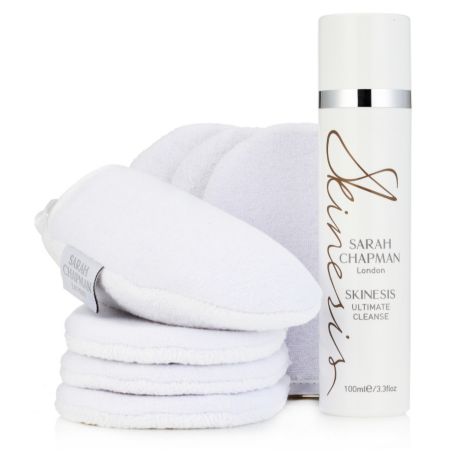 Sarah Chapman Ultimate Cleanse
I could never, ever, for one second, claim that I am not a victim of hype. You could tell me anything is the new ultimate product, whilst showing me a picture of a pretty girl with perfect everything, and I shall buy into it. I don't even need convincing. If anything, i'll be chucking my scant funds at you whilst apologising for taking up your precious time. I am a dream consumer. Happy to spend themselves into epic debt to attain the unattainable dream, whilst constantly berating myself for my weight and looks, but choosing to buy new products as opposed to get up off my lazy lazy behind, or say no to that third piece of cake.
But enough about me. Lets talk about Sarah and her cleanse.
I'll admit I only heard about Sarah Chapman during a particularly hellish festival weekend that I was dj'ing, and the only shining light that came out of it was that the person I went with was using Sarah Chapman skin products, and i'd forgotten my cleanser, so I was allowed to borrow a pump of this, and I was immediately obsessed. I have used a million different lovely cleansers, high end, low end etc etc, and so it takes a lot for me to feel the need to spend a lot after discovering
Soap and Glory Peaches and Clean
for under a tenner, that takes my eye and facial make up off in seconds, plus exfoliates.
So after much deliberation, and searching on e bay, I parted with £30 for the old style packaging.
Sarah Chapman Ultimate Cleanse old style packaging
So what does Sarah say about this....
This intelligent aromatic infusion melts into pores, transforming into a milk for swift removal leaving clean, fresh, glowing skin. A delicious soufflé balm that works deep into the pores to combat daily grime, lift out impurities and remove make-up, even waterproof mascara. Soothing omega-rich baobab and borage oils are blended with a powerful dose of antioxidant vitamins A and E, precious white lily and Dermaxyl™ peptide to boost collagen production. This potent combination of anti-ageing actives gently exfoliates to help prevent pore clogging and deeply cleanses, softens, and brightens.
What do I say....
Well, hmm, my immediate reaction is to say that I love it, but it's not all perfection. On one hand, it leaves you with a glowing, soft, clean and healthy feeling face, all comfy and fragrant. It feels luxurious as you massage it on, and you feel like you're getting a nice deep cleanse. What I don't feel quite so enthused about is the fact that it doesn't remove my eye make up, so I have had to resort to cleansing my eyes three times in a row with this to get the mascara off. I don't even use waterproof, just regular
L'oreal Manga Punky Eyes
, yet still, it doesn't remove it at all, not with the special fancy mit, or extra special massaging. When I get in from a long night, and i'm drunk, and beyond knackered, all I want is to have a clean sparkly face and to go straight to sleep. This would make that process rather annoying. However, the actual skin benefits, which lets face it, are what we cleanse for, are fabulous, and I wake with a non greasy, brighter complexion.
So in conclusion, I do recommend this, but for times when you have, well, time. Despite all my endless product buying I cannot be bothered for the process involved with the whole rigmarole of the entire range, it seems a little bit much from what I have witnessed, endless rubbing and massaging and above all, A RIDICULOUS AMOUNT OF CASH.
If you do want to get involved with Sarah, and her beautiful, if pricey products, you can buy from
Space NK
or direct from her website
HERE
for £40.