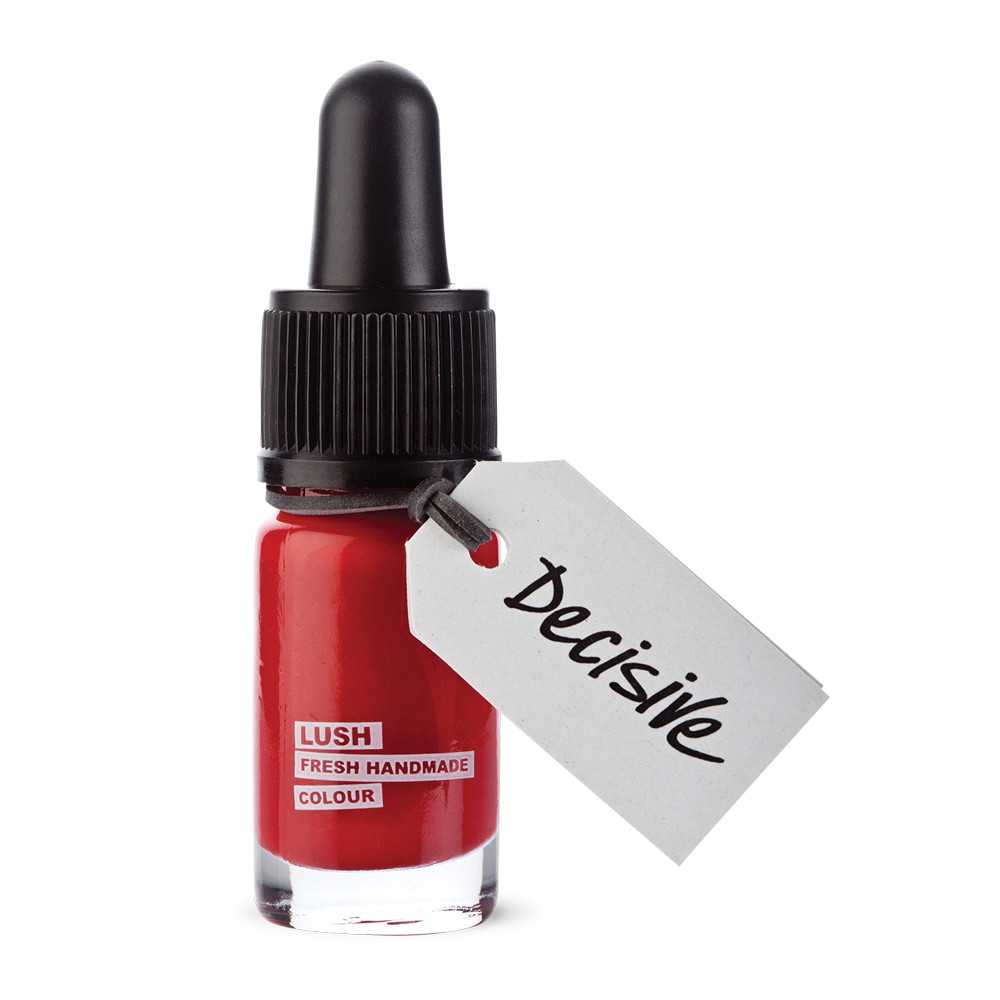 LUSH Emotional Brilliance Lips in Decisive
I love lipstick. I love it. It took me many years to come to terms with it. I wore it in the very early nineties, Rimmel's Black Cherry was my go to, or...actually, it was my ONLY, which I paired with green colour correcting powder instead of foundation, and mascara, and somehow I looked okay. This is an actual photograph, taken in my nan and gramp's flat. I remember I had spent all day watching the video to Lush - Hypocrite (see below) and decided I wanted to be Mikki Berenyi, so I went to the Superdrug next door, purchased the aforementioned lipstick and powder, and went to work on my face. Two hours later my gramps came home and yelled loudly that I looked like a tiny hooker.
Great days.
Lush - Hypocrite video
Anyway, back to the lippie. My obsession with lipstick started again in the mid 2000's and I haven't looked back since. My biggest lust is deep pinks and pinky reds, and having never been an aficionado on
Lush
the brand, as all I knew was every time I walked by one, I was met with headache inducing smells and confusing levels of messy looking bath bombs, which, again, if you were a teenager in the nineties, you probably got sick of too, because its all your stupid friends got you as presents, when all I wanted was music and films. Bloody women (of which, I know, I am one).
So yeah, Waterloo rail station has a new Lush, so I went in, and felt like I had to own something from there to celebrate the fact that I knew eff all about them, and I had ten minutes till my next train. I swatched Decisive and I was SOLD, as it was opaque, matte and beautiful in every way.
Lush - Decisive, having a little sleep
Decisive, swatched, on my arm
So, here's the first fact about this stuff. You will get opaque coverage in one swipe, no messing. The formula is super duper extra matte. You don't need any dry down time to see what this formula will look like, you will see the results straight away and if you love a pop of strong colour, you will LOVE THIS. Add to this that you get lip conditioning ingredients of jojoba oil, rose wax and candellila wax in this formula, you really cannot go wrong.
My ugly mug with Decisive on.
So, I have paired this with lipliner, namely
Sleek - Dragonfruit
which is my longwear, waterproof go to every time I wear a pink lip. and this photo was taken at 1.00am. I had applied the lipstick at 8.00pm, and had wine and three vodkas by this point, and look, NOT ONE BIT OF WEAR. Now, this is pretty amazing, but I will warn you that I by 6.00am, things were looking a little less appealing, but I was very....very drunk, so I cannot vouch for why I looked like such a mess.
In conclusion, this is a fantastic lipstick, which wears forever, is pretty indestructible and if i'm honest, I cannot find any fault with it at all. BOOM!
If you want to get involved, you can purchase this directly from Lush online -
HERE
- for £14.50.
AMAZE.