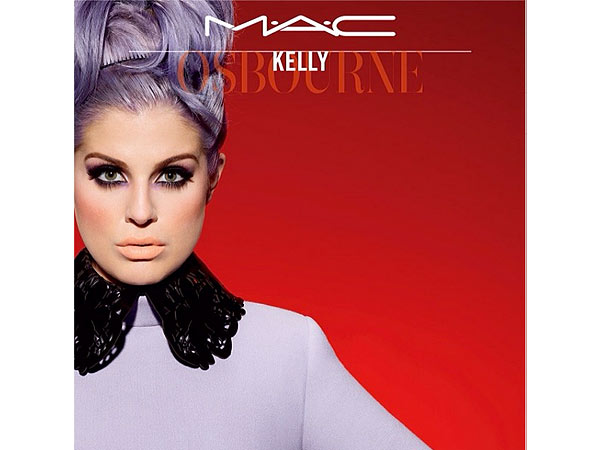 Kelly Osbourne and her face
So let me get one thing straight here. When I first heard there was going to be a Kelly and Sharon Osbourne Mac collection out, I did not whoop for joy. Instead I thrashed about in the same way I did when Kate Moss was given her first Topshop collection. Why the HELL should they get their own collections!! When I buy designer clothes, I feel excited because an expert and creator has designed something that they've studied hard to be proficient at, I mean, if Kanye West can get slated for being a designer of clothing, even though (and I know he's a controversial character here) he's been willing to intern at Fendi, which, I know, it's a dream internship, but at least he went there, did coffee runs, did a version of the same stuff that others who want to learn did.
When Kate Moss happily says 'what I did, like, for this collection, was I decided to look in my wardrobe at stuff I liked and then said to the designers 'make that thing I like please' and then, like, I sell it to people, and get money etc'. I am paraphrasing obviously, but.....well, I have a big wardrobe, I have LOADS of clothes I like, that, shock horror, were designed by DESIGNERS, why not just ask me to make a collection then? I mean, i'm afraid I wasn't blessed with the genes to make me a beautiful supermodel who has been idolised for having a face and a human body, but I do LOVE clothes so....
And this is basically my issue. Kelly Osbourne, I have met a lot. I'm hoping my anonymity stays with this blog, because I could get my arse whooped, but she was a close friend of a friend, and every single time I met her, she was a twat, and self entitled, and expectant, and she really needed, to quote the youth of today, check her privilege. Nepotism is obviously the key to many talentless people's success, but come on Mac, you really are scraping the barrel here.
But then.....argh, I went and I ruddy bought some....
Kelly Osbourne Mineralize Skinfinish in Jolly Good
Packaging = Pretty
A contouring and highlighting duo
So the point in this, is that you can use it as a subtle bronzer or contour shade, and the other shade as a highlight or subtle blush colour. I have to say, this colour pay off is VERY subtle, but the quality is stunning. The powder is buttery and soft, and is picked up very easily on a kabuki (I didn't buy the Kelly kabuki, because for £36, you can shove it up your arse frankly) and buffed onto the cheeks to create an ombre contour that is quite beautiful. However, this is very much a pale ladies pick up. If you are deeper in tone, you are going to be spending a lot of time trying to get some payoff on you skin.
I would suggest that this is a lovely bronzer for the summer months, and the lighter hue is fantastic in conjunction, or alone. The packaging is beautiful and it's well worth picking up if you are super pale, like me, as it's a rare type of bronzer that actually looks quite natural on your skin.
Kelly Osbourne Blusher - Cheeky Bugger
Cheeky Bugger - Swatched
So this is a satin finish blush, which I would SWEAR is a sheertone because, well, LOOK HOW SHEER IT IS. I would also not call it a satin finish, as it seems to be an aggressively matte base, shot through with a bit of sparkle, which is a whole different game from satin, which I generally find looks a bit dated. I did my best to get a good swatch for you lot but alas, I tried and this is as built up as I could get it. HOWEVER. When I use it on my NW13 skin, it is one of those shades that I adore. Seriously, it makes you look and feel like a spring lamb. It's fresh and pretty. Sadly it's longevity is pretty woeful, and it is only visible for a total of two hours. I love the colour so much, i'm willing to top it up throughout the day.
I would again, not recommend this for a darker skintone. It's just not going to give the payoff unless you go to work on it, and even if you do, it will wear thin pretty quick.
I won't end on a negative note though. I love the packaging, I am appreciative of the products and despite the 'icon' not really being much of an 'icon', I can get over that to own a product I actually like, and the visuals and styling for her are absolutely stunning. If only I could get on Strictly Come Dancing, and be given jobs because I have some parents who did stuff.
BITTER!
Anyway, you can pick this up
online direct
from Mac, the Mineralize Duo is £24 and the Blush is £23, and frankly, if I could make a collection with my mum i'd not turn it down, so I really should stop moaning.