NARS AUTUMN COLLECTION 2010
Bonjour! It's been a little while, and i'm sure no bugger is reading this, but if by some chance someone is, I've been very busy with my job with the dramas of clubland. It's making my desire to change careers into cosmetics stronger by the day, trust me.
Anyways, I am a huge fan of Space NK, and fortunately, or unfortunately for my bank account, I have recently discovered I actually have one within a mile of my house. Jubilation! Having seen many of the beautiful promotional shots for the new limited edition NARS collections, I decided to pop in and pick up a few bits i'd been obsessing over. First up
NARS DOUCEUR BLUSH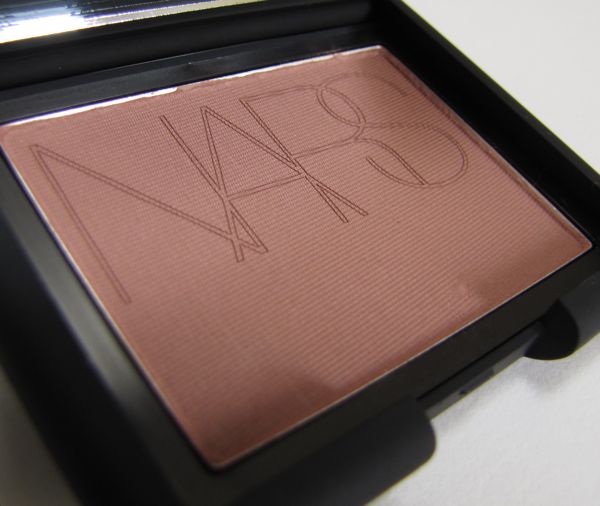 So, without a doubt this is THE BEST blusher I have ever ever used. The colour payoff is exceptional, the colour is the perfect flattering shade that can be used to compliment my pale skintone, and with a slightly heavier hand is perfect to contour when you don't want to use a bronzer or need to give yourself a slight bit of colour. It goes on smooth, it has zero sparkle, which I love, but it doesn't leave you looking powdery. I honestly cannot find ONE fault with this product. I also have the fortunate news that although this particular version is limited edition, as it has some lazer etching within the product, there will be a permanent version without the etching. It'll probably retail for the same price £19.50, which I agree is pretty excessive for a blush, but in reality, you get what you pay for with Nars, and I'd probably buy five cheaper ones trying to find this level of product satisfaction. The other Nars blush I own is Orgasm, and that is another HG blush of mine. Nars are bloody brilliant.
NARS EYESHADOW IN DAPHNE
Well, what can I say, the colour is absolutely beautiful isn't it? Sadly this product has taken a bit of a beating on the blogs. Why? Well, if you swatch this directly onto unprimed skin, it's a bit like chalk, but drier. It will be patchy with virtually no colour payoff. However, slick a bit of NARS primer onto your lids and swirl your brush a couple of times, and the colour is one of the most intense, electric purples I have ever seen minus the shimmer. It's stunning and I would say it's pretty much exactly what you see in the pan, but on your skin, lighting up your face like christmas! You HAVE to use primer though, if you don't, you'll end up with a patchy dry mess and end up throwing it at the wall. This colour gives you a trillion possibilities, and teamed with a simple, sharp, black graphic eyeliner, it looks positively amazing. I implore you to buy this if you happen upon it. You won't regret it!
NARS IN COCONUT GROVE
sorry for the disparity in photo size, i'm still having trouble with formatting
So this is the last of my reviews for today/night (it's six am, and I feel near death from lack of sleep). Coconut Grove is one of the best brown eyeshadows I have come across. For years my go to for a brown smoky eye has been Espresso by Bobbi Brown, but it is extremely dry and chalky, and although the colour payoff is intense, my one (admittedly four years old) comes out patchy unless you blend till your wrist hurts. This is a slightly odd tone, it's cold, not intensely dark, but builds very strongly and stays on without creasing. I would recommend it to anyone who is wanting to try the new catwalk trends of the deep brown contoured eyes. The matte texture of the shadow is great to mix with a very dewy skin and the previously mentioned Douceur blush.
There's not much more to say about it other than it's pretty much an essential for the fall/winter season, especially with the wonderful sheepskin leathers and beige and camel tones flooding the high streets at the moment. Highly recommended!